Back in the mid 1960s the little town of Manaia had more Citroēns per head of capita than Paris - or so the urban myth goes.
Manaia was Citroēn crazy - all thanks to Max Suter McKay - or 'Mad Max the Citroēn crank' as he was known by the townsfolk.
Max loved Citroēns and managed to convince a large portion of South Taranaki that the French car was the right one for them too. But who was this man - and why was he on a Citroēn crusade?
Mechanics or milking cows?
Max grew up on a Manaia dairy farm. His father, James McKay didn't want Max to work on cars - declaring that no son of his would be a greasy mechanic - he wanted his boy to continue milking cows on the family farm.
But Max secretly read engineering manuals, and persuaded Jim Davis, the owner of a local garage to take him on as an adult apprentice. Each week he'd pushbike the 15km to Hawera to attend night classes on engineering.
At the outbreak of World War II, Max went on to work as a mechanic in the RNZAF earning the rank of Sergeant.
After the war he returned to Manaia and took up partnership with Jim at the garage, working on cars, tractors and hay balers.
Max had come into contact with a couple of Citroēn Traction models over the years - but it wasn't until 1952 that his obsession with the cars began.
Citroēn mad
In an interview with the Taranaki Herald shortly before he died, Max recalled the encounter that kick started his Citroēn passion.
He was pumping petrol at the Waimate Garage when a 1951 Light 15 Citroēn pulled up. The driver asked him to adjust something in the engine, but Max refused, saying he didn't know anything about Citroēns.
"He asked me to go for a drive. We drove to the top of Riverdale Hill and I asked to drive back to the garage - he was a maniac and drove 20mph (32km) faster than I normally did on that stretch of road. But I liked the car. I was fascinated with the engineering."
Max was so interested in the Citroēn he took it for a drive around the rough roads of Mount Taranaki. He came back a changed man - convinced that no other car on the road could match the Citroēn for comfort and handling. Then he fixed it. Four days later he ordered himself a new Citroēn and a set of tools. Then he bought two second hand Citroēns.
"That's when they started calling me Mad Max, the Citroēn Crank," he told the Herald. "But that doesn't worry me. I'm also known as Metric Max the Citroēn fanatic."
The new Citroēn sat in a shed for a year because Max reckoned he'd wear out the other two cars first.
Fools and their cars
By 1954 the garage partnership was failing. Max's obsession with Citroēns was starting to wear on the relationship. He took over the garage when Jim was advised by locals to 'get out before Max sent the business broke'.
The business was renamed Waimate Motors, Max became a Citroēn dealer and set about convincing the people of South Taranaki that Citroēn was the only really safe car on the road.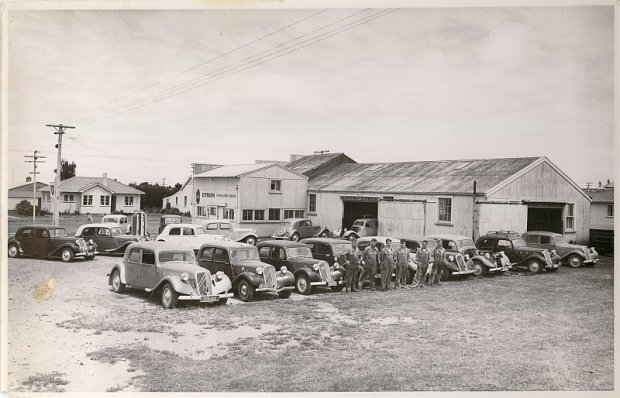 "He started terrorising the local townsfolk with his on-again-off-again road driving demonstrations, and calling them 'fools' if they did not heed his warnings on how un-safe the more conventional cars were," a reporter for the North Island Citroēn magazine wrote.
Max bought, sold, serviced and collected Citroēns. He had a knack for selling the cars too. In that first year there were 50 Citroens within a 16km radius of the garage. Max was so successful that at one stage it was rumoured that the Manaia district had more cars per head of population than Paris.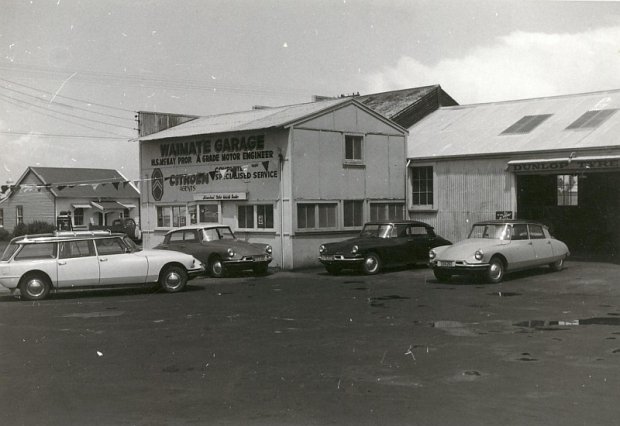 Word spread and soon people were coming from around the country to buy, sell or have their cars serviced by Max. When people came from afar Max would lend them his house to live in, staying with his brother until the work was finished.
"Would you like to see something remarkable?" was one of his favourite lines as people walked in his workshop door. Sometimes all they wanted was travel directions - but Max would regale them with tales of the Citroēn - often for hours.
On a Citroēn crusade
He loved to show off his Citroēns - and would go to great lengths to prove the car's safety and performance.
Driving a potential customer along the road he would suddenly swerve onto the berm, bumping along the road edge to prove what a smooth ride the car gave.
Often he'd take a customer on a 300km trip – arriving home hours later – just to convince them of its comfort and handling ability on all roads.
Or he'd take a back wheel off the car and drive around district three wheeled - daring any other car dealers to do likewise.
Max reckoned the best thing about the Light 15 was its safety. To prove this he and his mechanics test drove the car without touching the steering wheel. Instead the Light 15 was steered by a person sitting in the back seat moving from side to side as they approached corners.
These antics often got Max into trouble with the police – but according to John Kurriger in the Taranaki Citroēn Car Clubs booklet More Citroēns than Paris - he was never convicted of a traffic offence in a Citroēn.
"Many times before the court case was heard, he actually got the apprehending officer to go for a drive and try it for himself. It seemed to work wonders – or was it that they let him off just to get rid of him?
"Max was a complex person who would lend the right person a car for two years, but then refuse to sell another a car, regardless of the offered price." And he was very particular about things.
The local doctor had a D Safari that he dropped off one day, unarranged, to have fixed. "A while later he came back to collect it," writes John. "Max said 'Now listen here my good fellow, just because you are a doctor and can save lives does not give you priority. When I want to visit you as a patient you make me wait two or three days for an appointment. Then I have to sit in your waiting room for an hour, and you expect me to pay before I leave, with no guarantee of satisfaction!'"
Sometimes Max would 'unsell' a car, cancelling a sale if he thought a person was unworthy of owning a Citroēn. Unbelievably this did happen – leaving a very embarrassed client.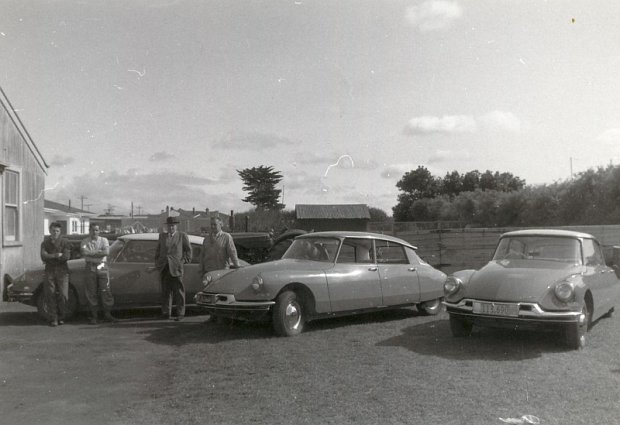 He sold mainly second hand Citroēns and was known to throw rubbish over cars he wanted to keep for himself – so people wouldn't pester him to sell.
Max's commitment to his customers often kept him busy all hours of the day, seven days a week. He believed in after sales service and told his customers that if they ever broke down - no matter where or when - to call and he'd help. This lead him off on adventures all over the countryside - often late at night.
On one occasion an elderly couple from the South Island called into the garage with their Citroēn, they'd heard about Max and asked him to look at the car - complaining that it had never worked properly. Max ended up offering them his car to continue their North Island holiday - then fixing the Citroēn for nothing. Really it was a canny marketing ploy. The couple were so astonished at the result they told all their friends - and Max's business increased.

'D' for Citroēn
In 1957 the DS Citroēn came to New Zealand. Max was apprehensive about this new car - a vehicle so different from the Tractions he had worked on. But he came to love the car - eventually making a trip to the Citroēn factory in France to gain first hand knowledge of the vehicle.
He came back home with a wealth of knowledge - especially in hydraulics. The D-model Citroēn had received his stamp of approval and remained his favourite throughout his life.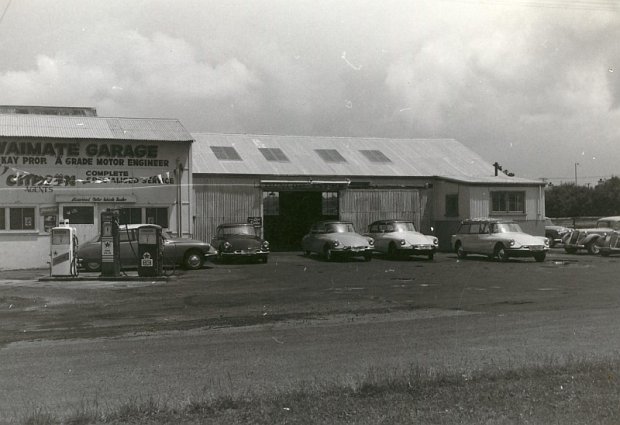 Max the man
Max had married Eileen Howarth in 1959 but it was to be a brief marriage - the couple split just two years later. Living with Max and his Citroēns was not an easy thing.
While Citroēns were Max's life he did find time for rugby. He played for Waimate seniors and later would close up the garage on a Saturday afternoon to watch the team play. He liked clarinet music and a drop or two of Drambuie.
There was also a side to Max that not everyone saw. He could be very generous – lending money to hard up locals, or secretly dropping off a carton of groceries at someone's back door.
"There were two sides to Max," wrote Eric Darrah. "In business he could be very ruthless and the other extreme he'd be very very generous."
Good years
The 1960s and early 1970s were good times for Max and the Waimate garage. He'd built a good reputation and the business was ticking over by itself.
There were five mechanics - most of whom he had trained himself. Although he was a difficult boss - many staff didn't stay long - he had a wealth of knowledge and experience. One of his favourite sayings was 'even if it's got two 'R's' on the grille it's still no good if it's not looked after'.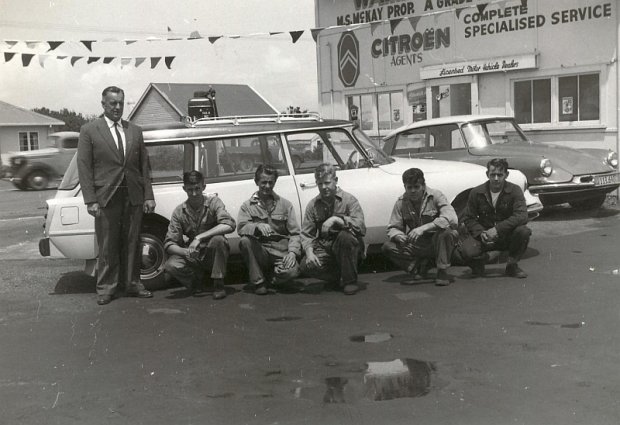 It was this belief that saw Max reluctant to retire. "I have so many friends who drive and appreciate Citroēns I feel morally bound to retain the service," he told North Island Citroēn magazine.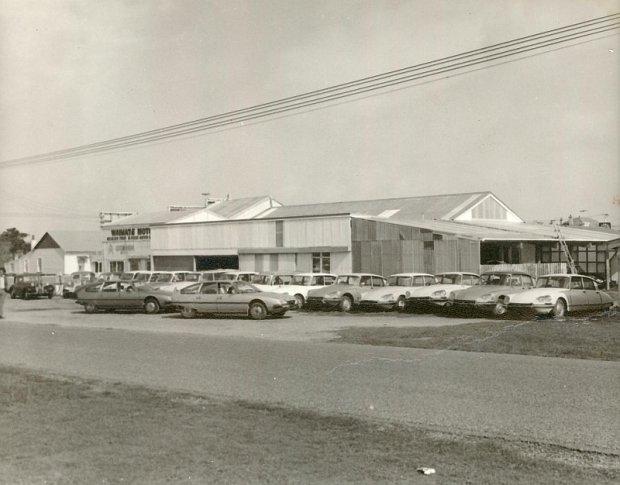 But the loss of the new car franchise for Citroēn, poor health and a growing fear that the IRD (Inland Revenue Department) were after him caused Max to take his own life just two months before his 70th birthday.
He died in one of his beloved cars - gassing himself in a Citroēn Safari near his farm on 13 October 1983. Rumour has it he left a note reading 'I told you they'd get me in the end'.
First published 25 October 2005